Blog
---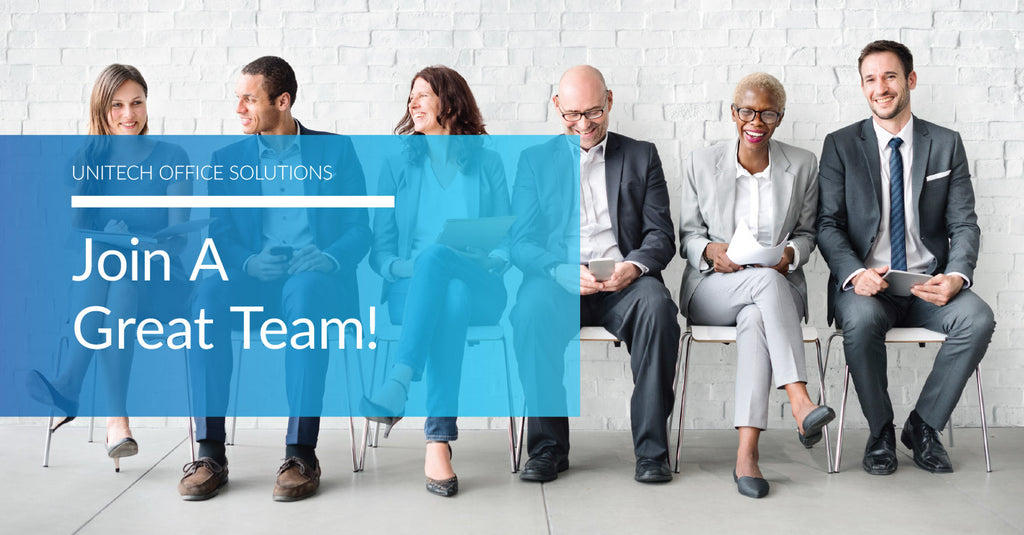 Available Jobs with UniTech in Prince Albert, Saskatchewan
Thu Sep 22, 2022
Are you looking for places that are hiring in Prince Albert, Saskatchewan? UniTech has several job openings that we're looking to fill, including IT technicians, IT/ business consultants, and customer support agents.
Careers in the technology industry have plenty of growth options and offer opportunities to learn new skills that can be transferred to many other fields. When you work with UniTech, you'll be getting hands-on experience working with the latest office technology innovations. Our team is excited to welcome new members, and to continue supporting our customers and community in any way we can.

Who We Are
UniTech Office Solutions Ltd. is a locally owned company in Prince Albert, Saskatchewan. It was founded in 1946 by Steve Pasloski, and is now run by his son, Allan. The company was originally in the business of typewriters before later adding a machine repair and sales center. Over the years, the business has grown, and it now focuses on office technology solutions.
Our team believes in putting our clients and customers first, taking good care to find them exactly what they need.
We've partnered with some of the biggest names in the industry, including Canon, Panasonic, Polycom, HP, & Microsoft. Working with great brands like these means we get access to large catalogues of products, which allows us to always find the perfect solution for each individual customer.

Why Work for UniTech

 
It's motivated, talented, and hard-working people that make any business successful. We believe that our team is the heart of our company, and make sure that every person who works for UniTech feels valued and respected.
Small businesses, like ours, are built from the ground up by hard-working, local owners who are passionate about the towns they're in. We at UniTech do our best to put the town of Prince Albert, Saskatchewan and its people first.
We're excited to have new members join our team who will share the same passion for our community as us.

Available Positions
We currently have several available positions for candidates to choose from. Each position is diverse in its required skills and knowledge, and we recommend that candidates apply to the one that most interests them.
If you feel like you'd be a good fit for several positions listed below, please feel free to apply to more than one. 


Customer Support Agent
Our customer support agents help create a great experience for our clients. You'll be responsible for data entry, order entry, scheduling, service dispatch, and e-mail/phone support. Customer support agents are skilled at multitasking and the organization of filing systems.
We offer several benefits to our customer support agents, including benefits packages, group healthcare plans, and competitive wages.



IT/ Business Consultant
To help keep everything in our business going, our IT/Business Consultant manages and builds relationships across the territory. You'll be consulting and solving IT/business process issues for things such as input management, document management, workflow, and output management.
We offer several benefits to our IT/Business consultants, such as a car allowance and laptop. We also pay our IT/business consultants a base rate, while also paying commission bonuses.
IT Technician
Are you passionate about technology? Do you prefer hands-on work? Then you're a perfect fit for our IT Technician role. Our technicians support our growing customer base throughout Saskatchewan, assisting with software maintenance, installation, network security, and hardware/software support.
To work as an IT technician, you'll need to have a Computer Systems Technology diploma (or equivalent education/experience) and a valid driver's license.
Print/ MFP Technician
As a Print/MFP technician, you'll spend lots of time working directly with our customers. You'll be on the front-line, providing installations, service, and maintenance of office product equipment.
Our technicians work 8:00 a.m. to 5:00 p.m, Monday to Friday. Every technician must possess a valid driver's license and be proficient with machinery.
Customer Referral Bonus
Do you know someone who'd be perfect for one of UniTech's available positions? Customers who refer a successful candidate will receive a $500 bonus. Money can be put towards your next purchase on products or services with UniTech.
All interested parties should apply to apasloski@unitechoffice.ca and include your cover letter, resume, and any additional information you believe we should know.
To learn more about our job listings and their benefits, please visit our

careers page

. 
We look forward to welcoming you to our team!
---