Blog
---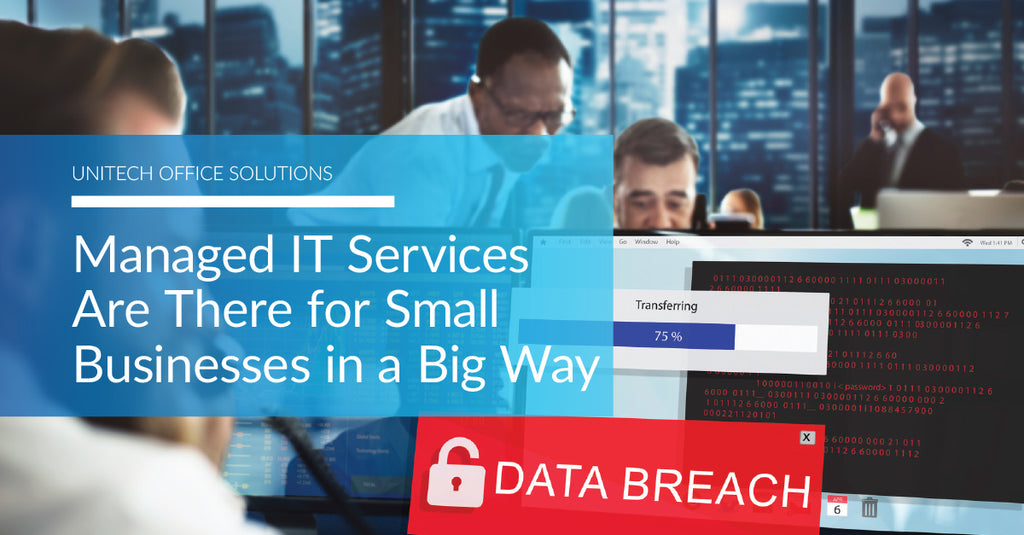 Why Small Businesses Need Managed IT Services
Thu Jan 12, 2023
We've talked before about the benefits of managed IT services, and how choosing the right team can save businesses time and money in the long run. What we didn't touch on, however, was how much small businesses need managed IT as well. 
It's almost a no-brainer that big businesses will at some point consider having managed IT services. But what about small businesses? It might be easy to think that small businesses shouldn't even consider managed IT, given that they're not as much of a target for many reasons…or so many small business leaders believe. 
The truth is much grimmer, unfortunately. Small businesses have become huge targets for cybercriminals. Just because a business is considered "small" doesn't mean the private data they have in their possession is any less important. What's more, small businesses are usually at an unfortunate impasse; either pay the ransom or lose everything they have. Even if a small business can come up with the finances to cover the ransom, the losses that they've taken due to down-time and potential damages to their reputation can sink a company in its prime. 


Here are three reasons all small businesses should have managed IT services!
1: Managed IT Can Save You Money on New-Hires
We know it sounds counterintuitive––spend money to save money, but it's true. Managed IT services can save more money for businesses in the long-term. UniTech's Managed IT, for example, has a monthly payment with no up-front costs attached. You get to choose which systems and data you want protected. While we know that monthly fees can seem like a big commitment for small businesses, it is often better than the alternate options available––hiring an additional in-house IT person. While it's great to want to protect your team with as many IT professionals in your office as possible, sometimes small businesses can't afford having more than one or two IT personnel at a time. That's why pairing in-house IT and managed IT could be the ideal trick to protecting your information.
When it comes to hiring a new in-house IT employee, you have to consider things like costs to train, salary, and any benefits that your company may offer. Training someone in itself can cost businesses, as it requires another one of your paid employees to take time out of their day to train the newcomer.
In contrast, our managed IT has no up-front or training costs. Instead, we sit down with your current IT team and strategize on the best way to protect your devices. If you don't have your own IT team, then our professionals would sit down with the manager or owner and go through our services together to protect you from potential threats. Not only do you get a personalized strategy with managed IT, but you also get benefit from having a whole team of trained specialists for a monthly cost rather than just one person for more.
2: Managed IT Teams are Trained on the Latest Threats
Disbelief that they could even experience a cyberattack or ransoming by cybercriminals is a driving force that makes many small businesses prime targets. One person who sought to disprove this notion was Cramer Snuggs, Founder of Cascade Technologies.
Several years ago, Cramer Snuggs reported seeing attacks against his clients every six months. This number, startling enough on its own, has only worsened. His report on last year's cyberattacks cited a rise to once every other week. (Forbes, 2022) Small businesses have been facing more and more cyber threats. What's worse is that these threats are becoming increasingly sophisticated with every passing year. Cybercriminals are now able to "harness automation and even AI technologies" (Forbes, 2022), posing even greater risks to small businesses who aren't as heavily guarded as their larger counterparts.



Small businesses, who once believed they could fly under the radar, are now small potatoes for cybercriminals. They're easy targets who can be quickly mined for data and then cast aside. Now more than ever, small businesses need the know-how of managed IT teams.
Managed IT teams have the benefit of seeing potential cyberthreats daily. As such, they know how to better deal with them. Their experiences fighting back against cybercriminals make them great knights in shining tech-armor for small businesses. They'll also be able to work with your in-house IT team to spot threats sooner and easier.
Which leads us to our next point: being proactive rather than reactive.



3: Managed IT Saves Small Businesses from Attacks Before They've Even Happened
We truly believe that managed IT teams are the unsung heroes of the technology industry. Their greatest superpower is being able to spot potential threats before they've had a chance to turn into full-scale attacks. Managed IT services can keep your team from facing unnecessary downtime, protect your private data, and they're here to support your team every hour of every day.
We know this for a fact, as we've seen how dedicated our managed IT team is to our clients. They're there, no matter the issue, to help problem-solve and get ahead of potential threats. They keep teams like yours going by managing complex systems and guarding against sophisticated attacks like it's a walk in the park.
Best of all, they're consistently several steps ahead of cybercriminals' plans.

While in-house IT personnel can help problem-solve after an attack has occurred, managed IT services keep systems on track, full-steam ahead. Having both combined is sure to keep your team operating most efficiently capacity. Small businesses are especially in need of this level of support, since their team members' attentions are already likely divided between several tasks. 
Don't let a business-ending attack be your unfortunate wakeup call. Be proactive and get Managed IT today!
---