Blog
---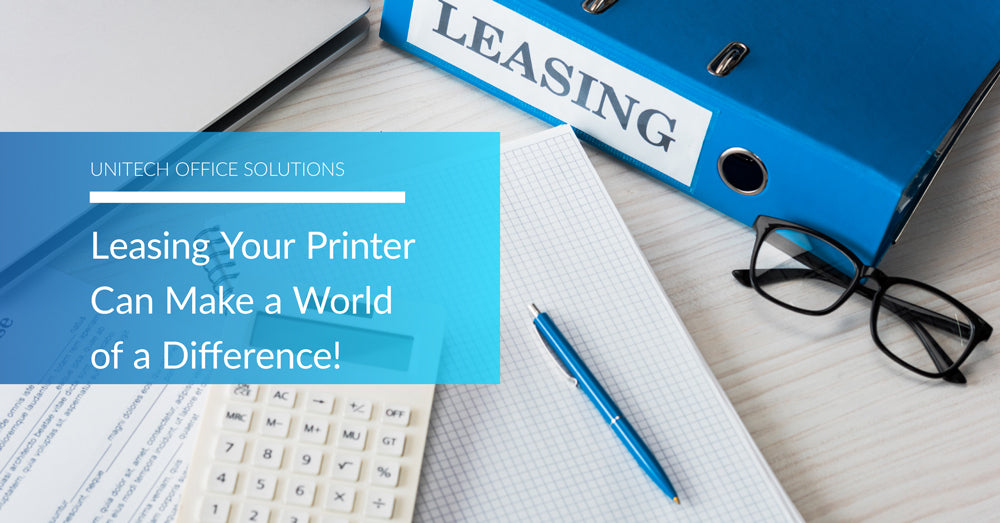 The Benefits of Leasing or Renting a Printer
Tue Dec 06, 2022
For many businesses, deciding to rent or lease a printer can be the most cost-effective option.  While buying a printer for your office can be advantageous in many ways, renting and leasing offer teams more flexibility with their office equipment. A big fear for many team leaders making these important purchases is that the device will be outdated in a few years. In these instances, leasing and renting is a great alternative!
Deciding what printer to get for your office can be a tricky decision, and not all teams require the same functionalities. That's why it can be so helpful to have print experts on your side. They can offer you more information about what printers will suit your needs, and they'll know whether it's better to buy, rent, or lease!
To help make the decision easier for team leaders, we've laid out some information about the advantages of leasing and renting a printer.
 
How Does Leasing a Printer Work?
Just like leasing anything, when you decide to lease a printer or copier you're entering into an agreement. This will be either a short-term lease or a long-term lease. Other times you may only want the printer for a really short time. In which case, opting instead to rent a printer can be the better option.
But what exactly does each of these commitments entail?


1: Short-Term Leases
Short-term leases are most beneficial for start-up companies or smaller businesses. They give your team the flexibility to re-evaluate your needs sooner, without having to lock-in to a long-term contract.
It could be that your team is just starting out, and you're not sure what your printing needs will look like. Or maybe you're in the middle of making several big changes to how your team conducts business. In both these cases, a short-term lease gives you the freedom to decide to re-up your lease agreement or to change it when the time comes.
 
2: Long-Term Leases
Long-term leases are most beneficial to well-established companies or for bigger teams. One of the greatest benefits of having a long-term lease on a printer is familiarity. Your team will learn how your device works and be more comfortable using it. It can be hard for larger teams to re-learn and re-evaluate processes. Keeping the same device around for a longer time can alleviate stress and streamline your processes.
Since printers are always changing, it might seem like a big commitment to lease long-term. But the reality is that most imaging technology businesses will give you the option of upgrading your device at the end of your lease. This means you'll get upgrades in functions, features, and security without having to purchase a new printer.


3: Renting
Printer and copier leases are meant to give more options to established businesses. What they're not as great for is event planning or extremely short periods of time. This is where renting comes in!
Some people don't even know that renting a printer or copier is even an option. But there are lots of short-term rentals available on the latest devices.
Since some special projects or events happen on a yearly basis, it can be great to start familiarizing yourself with rental contracts and what devices are available to you earlier on. This can help your team set up faster for events, and you'll already know exactly what features you're looking for when the time comes.
 
How is Renting or Leasing Better Than Buying? 
There are lots of advantages to leasing and renting that go beyond the familiarity factor that we talked about earlier. Deciding to rent or lease your printer or copier can mean a lot of savings for your team. The large upfront costs of buying a new device might not be feasible with your yearly budget.You can then allocate all the money you've saved for different projects or office upgrades. 
You could also save even more money when you rent or lease, with many agreements including costs on:
Repairs

Supplies

and Upgrades.

Your team can work closely with print experts, like the ones at UniTech,  to find the right device for you. Spending hours doing research on a printer can take valuable time away from more pressing deadlines. Having a reliable representative to walk you through the process and match you with the best printer can save you time and decrease stress.
Another great reason for renting and printing is that you'll have someone readily available for repairs. Maintenance costs can be a shock to businesses, who sometimes fail to account for them in their budget for a new device. Luckily with a lease, it's up to your provider to support your team with repairs and monthly maintenance. These terms often come as a package deal with your lease agreement.


And of course, one of the best reasons for leasing is upgraded technology!



As new devices are always being released, and with them helpful features, it can be frustrating for teams to buy a printer or copier. Team leaders can often feel defeated after a new purchase, especially if they've mistimed it and bought devices right before the latest ones are set to come out. For this reason, leasing can really save the day! Your team will get the latest and greatest in print technology without having to worry about falling behind on the times.
Get the Benefits of Leasing or Renting a Printer Today!
If you're looking to rent or lease the latest print devices available, our team at UniTech can help. We know about the newest devices features, the best time to buy or lease, and how to pair your team with a printer that will meet your needs.
Leasing can come with all the rewards that we outlined earlier, and then some! If you want to learn more about leasing and renting a printer or copier, you can read about it on our Printer Rentals page. 
We also offer a Cost-Per-Copy program, where your team can save even more money on supplies. You can cut costs by only having to pay for what you actually use, not wasting money on extra supplies or equipment that you won't need. 
Equip your office with the latest technology. Contact us today to learn more! 

---