Blog
---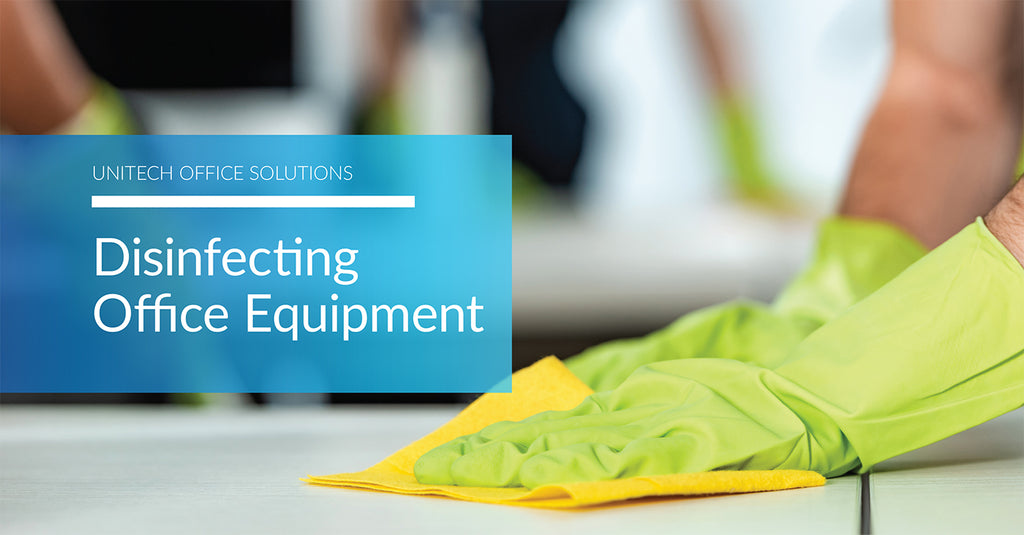 Help Your Business Address COVID-19 Concerns with this Cleaning Process
Tue Aug 04, 2020
The COVID-19 pandemic has made us hyper aware of the surfaces we touch on a daily basis, especially those outside of our own homes. At work, shared office equipment is likely a concern right now, but you can't use just any cleaning product on your technology. It could cause irreversible damage.
A bottle of hand sanitizer next to the copier isn't an effective solution either. It helps, but without monitoring, you can't enforce its use and it is becoming increasingly difficult to source as well. We want to help!
Here's what you need to know about disinfecting your tech without damaging it.
First, you'll need some supplies: 
Disposable gloves.

We know these are hard to come by, so in a pinch, following

CDC guidelines

for handwashing can serve as a replacement.

Disinfectant.

We recommend one that is 70% isopropyl alcohol and 30% water. Never use bleach, peroxides, acetone, ammonia, ethyl alcohol or petroleum-based products.

Microfiber cloths.

You will need one for disinfectant and one for glass cleaner and these should be washed after every use.

Glass cleaner. This will be used post-cleaning. 
Next, follow these steps:
Begin by putting on your disposable gloves (or thoroughly washing your hands), turn off the device, and disconnect it from its power source.

Moisten a microfiber cloth with your disinfectant and gently wipe down all visible surfaces in one direction. We recommend working from top to bottom.

When you are finished with the disinfectant, moisten a clean microfiber cloth with glass cleaner to remove any streaks from the display.

Allow all surfaces to dry completely.

Power on the device, dispose of your gloves, and wash your hands.
Following this cleaning process on a regular basis will help protect your team and your equipment. If you have any further questions, or are interested in other ways you can reduce health and safety concerns in the office,
contact us today
.
---